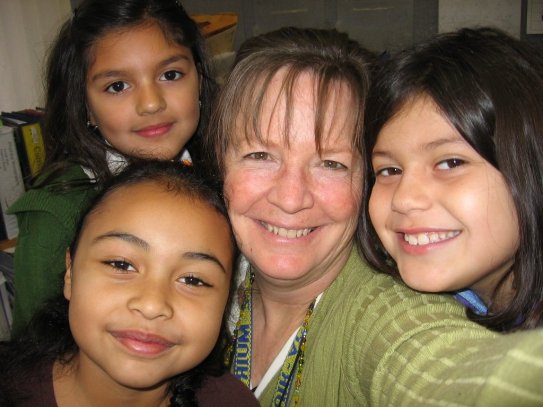 Yep, that's me with three of my adorable 3rd grade students. I'm Barbara Lee, and for 23 years I was a special education teacher who worked with elementary aged children. I invented Crayon Rocks after being inspired by occupational therapist Jan Olsen and her Handwriting Without Tears program. I had so many students and referrals who could not write adequately to pass their exams. It was from Jan that I learned how important it was for children to develop a strong tripod grip early in their education process (and the younger the better) — handwriting skills depend upon this. A simple tool to develop these skills in young children wasn't readily available, so I set out to create one. Four years later we had a lovely soft soy wax crayon in the perfect shape and size for young children to use.
Since a child's first writing tool is usually a crayon, that crayon should be one that encourages him or her to use thumb, first and second fingers in a tripod grip. This is what makes Crayon Rocks a wonderful tool for fine motor development. Because of their shape, they do not allow kids to easily grip them in a closed fist or with any other inappropriate style of grip that deters fine motor development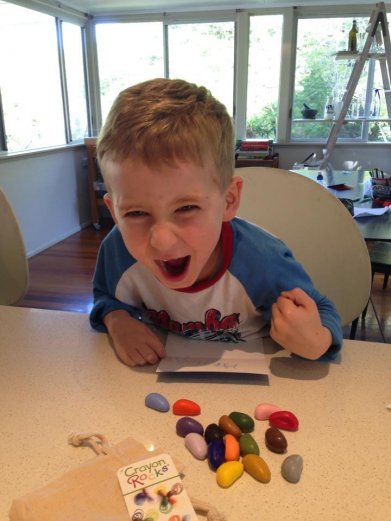 Children with cerebral palsy, autism, developmental delays and various forms of learning disabilities have tested Crayon Rocks in the classroom. Parents and teachers of special needs students often tell me how much their children love them and how much good they have done. For more information about how Occupational Therapy can help fine motor disabilities click HERE.

Here's Lewis' happy face when Crayon Rocks come out. Lewis had a stroke at 3 that left him with right side paralysis and cerebral palsy. To write he had to switch to his left hand. His mother wrote to say, "it's not that easy to switch pencil grips and we have honestly tried everything. This is Lewis' 'Crayon Rocks rock!' face. These are absolutely the best thing ever for little hands that have difficulty with their pencil grip. Thanks so so much."

What are they made of?
Most crayons are made of petroleum paraffin wax. Crayon Rocks are made from U.S.A. grown and processed soy wax. We combine this wax with other plant waxes and a variety of non-toxic powdered pigments to create beautiful colors. We use a natural ground rock to give the crayons their body. This creates a crayon that goes on smooth and blends easily and is, in many ways, much like an oil pastel.

Where are they made?
We first made Crayon Rocks in a garage in La Crescenta, California, mixing the colors in small batches and forming them in hand-made molds. And then a couple of engineering nerds (Edwin and Andrew) from Stanford University School of Engineering in San Francisco built us a machine we named Daisy. She spits out 14,000 crayons a day with only a little supervision from her dedicated handler. And in 2010 we moved from the hustle and bustle of California to the quiet rural peace of Kentucky Amish farm country. We work in a beautiful 4,000 square foot shop that my exceedingly wonderful Plain People neighbors built for me at the bottom of my hill in Hestand.